Industry News
Make your own chocolate with chocolate tempering machine
Views: 530 Update date: Mar 21,2018
The trend " from bean to bar " or what is the same: the idea of making chocolate "from the bean" has made not only chocolate makers with small factories around the world make a handmade chocolate, but also, more and more people are encouraged to make chocolate with chocolate tempering machine in their homes. If you want to live an exciting experience with this food, we recommend you start experimenting and why not have a chocolate made entirely for you, I assure you that it will not be the only one because once you start you cannot stop.
I'm sure you'll like to delve into this world of handmade chocolate. This is a summary of an interview we did in the newspaper:
Ingredients to make chocolate at home: Dry cocoa (at least 500 grams), sugar (refined, coconut or panela) and in some cases a little cocoa butter. Normally when chocolate is made at this level we do not use soy lecithin or any other type (sunflower or rapeseed) but some people use it to reduce the viscosity of the mixture. The percentage that is used is minimal, should not exceed 2 percent. You can also use a little vanilla (with a couple of pods would be fine).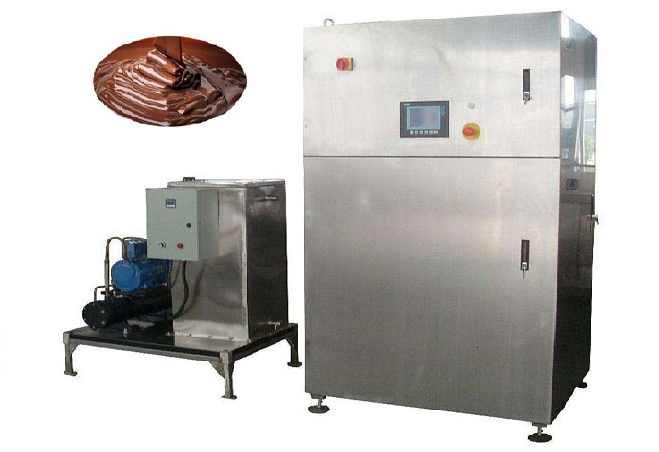 If you can get chocolate tempering machine, success would be guaranteed. This is the most important step.
Chocolate Tempering Machine
is designed according to the characteristics of the natural cocoa butter and cocoa butter equivalent (CBE). It is in vertical structure, the chocolate mass is fed from the button by the chocolate pump, then passing through four temperature adjusting zone and one temperature holding zone, then output from the top of the machine. After this process, the chocolate product will be well crystallized with good taste, fine color and longer preserving time.
Previous: Vegetable Washing Machine: The Best Method to Wash Vegetables
Next: Vegetable Washing Machine: The Best Method to Wash Vegetables