Company News
Inquiry of Industrial Vegetable Washing Machine
Views: 1519 Update date: Apr 01,2019
In March 2019, we got one inquiry of Vegetable Washing Machine from client, below is the details:
Good day ! We are interested in equipment for washing valerian roots.

We suggest the Industrial Vegetable Washing Machine, it is fit for the production of foods, inside the equipment is set air bubble device which made material turning, washing surface chemical, at the same time can be put little pharmaceutics to disinfection and fixation. Floating objects can be overflowed from overflow launder; calcium deposit can be discharge from sewage outlet, up to deep clean.It is high cleanness-degree, saving emerge, water, reliable and stable.It is proper for all kinds of vegetable, fruit, sea food and other pellets, leaf, tubers products washing, soak, sterilize, color fixing and so on.
FOBQINGDAO price: USD4900-9600/Set
Application of Industrial Vegetable Washing Machine:
Widely used in factory, hotel, restaurant and farm to wash all kinds of vegetable and fruits thoroughly.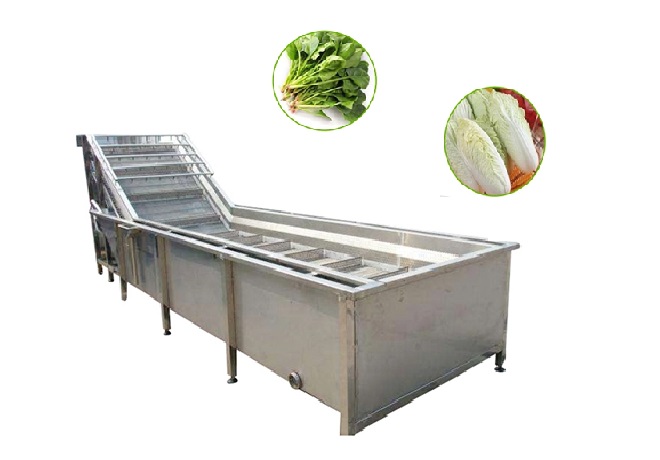 Characteristics of Industrial Vegetable Washing Machine:
◆Vegetable bubble cleaning: pepper, vegetables, ginger and so on;
◆Fruit bubble cleaning: apples, pears, plums, plums and so on;
◆Herbal bubble-cleaning: Campanulaceae, Asarum, Gastrodia, ginseng planting, roots, stems;
◆Preserves candied fruit bubble cleaning machine: grapes, hawthorn, red dates, green plum, sand fruit, strawberries, etc;
◆Air Bubble/Spraying industrial vegetable washing machine is made of stainless steel, removing very clean and no damage to the material;
◆The vegetable and fruit in the water channel is scattered, rolled, cleaned and delivered under high pressure water and powerful bubble. The sand will fall to Isolation warehouse on the bottom and do not cause pollution again;
◆Very popular among the market, offering durable performance, ensure safe operation and low power consumption,available in various working specifications.
Working Principle of Industrial Vegetable Washing Machine:
Materials fall into the water, the use of churning water tank material will be stirred to clean the material with the sediment and other heavy dirt after falling into the filter below the sedimentation area, the material in the water to promote the gradual move to the transport network Belt, was raised out of the tank body, and then after the spray cleaning, the material washed twice, into the following process. Rinse off the rinse, after the filter to intercept. In the course of work, the inlet pipe and the sprinkler pipe always supply water, so that the sewage inside the water tank is replaced gradually.
Technical Parameter of Industrial Vegetable Washing Machine:
| | | | | | |
| --- | --- | --- | --- | --- | --- |
| Model | Dimension | Voltage | Power | Weight | Capacity |
| LF02 | 2500*950*1550mm | 220V/380V | 2.75kw | 320kg | 1000kg/h |
| LF03 | 3000*950*1550mm | 220V/380V | 3.75kw | 450kg | 1500kg/h |
| LF04 | 4000*950*1550mm | 220V/380V | 5.5kw | 650kg | 2000kg/h |
| LF05 | 5000*950*1550mm | 220V/380V | 6.5kw | 800kg | 2500kg/h |
| LF06 | 6000*950*1550mm | 220V/380V | 7.5kw | 950kg | 3000kg/h |
Previous: Quote of Sweet Corn Sheller Machine
Next: Quote of Sweet Corn Sheller Machine