Grain Processing Machinery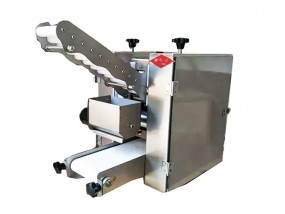 ※ Dumpling wrapper machine using the principle of pressing rollers to roll dough,without return dough andmarginal waste after one-time molding.
※ Dumpling skin is thick in the middle,thin on the edge, has the same texture and shapewith hand-rolled skin.
※ Size,appearance, taste and weight of thedumpling produced are uniform, thus completely changing the current phenomenon of low production efficiency, secondary pollution, and middle cracks.
※ Easy to operate,click switch and put dough into theinlet, thendumpling skin can be out.
※ Made of stainless steel material, reasonable structure, maintenance;easy to disassemble and clean.
※ Small in size, high efficiency, compact structure, novel shape, beautiful,bright and clean.
FOBQINGDAO: USD700-USD900/SET
Pls contact us for accurate price.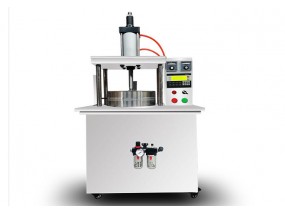 ♦ Greatly saving manpower, high output, up to 400-500pcs per hour.
♦ Can press different thickness of cake, widely used.
♦ Automatic temperature control system and time system.
♦ Beautiful appearance, fine workmanship, compact structure.
♦ Simple operation, long life, energy saving and environmental protection.
FOBQINGDAO USD800-3000
Contact us for offical quotation.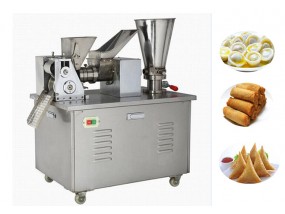 ※ Produce about 4800 pcs dumplings per hour.
※ Filling amount and dough thickness can be adjusted at any time.
※ Saving time and labor.
※ Semi-automatic systerm, low cost of investment.
※ Multi-functional, different shapes of dumplings/triangular dumplings can be made by changing the mold.
FOBQINGDAO price:
USD900-1450/Set
Pls contact us for accurate price.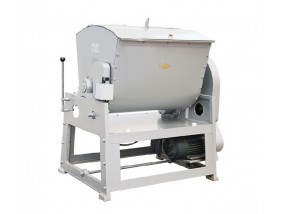 1) Made of choice material with exquisite workmanship, the gears can be mounted steadily.
2) Compact structure, steady driving, easy operation
3) Substitute manual operation, reduce labor intensity.
4) Provide different choice,meet the user's dietary hygiene requirements.
*flour bucket adopt stainless steel,shell and coverstoving varnish
*whole machine adopt stainless steel
FOBQINGDAO price: USD700-USD4900/Set
Pls contact us for accurate price.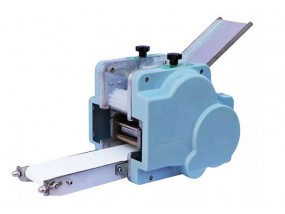 1. One-time molding, automatic skin feeding, automatic skin return,labor and time saving, faster production speed, simple operation.
2. The produced dumpling skin or steamed bun skin is thick in the middle, thin on both sides, suitable for various specifications of dumpling skin or steamed bun skin, thickness and size can be adjusted.
3. The principle of multi-roller one-time pressing is adopted. Size and thickness of dumpling skin is uniform, which guarantees the quality of finished dumplings.
4. In addition to making dumpling skin, this machine can also make wonton skin, steamed bun etc, has a wide range of application.
FOBQINGDAO: USD450-USD650/SET
Pls contact us for accurate price.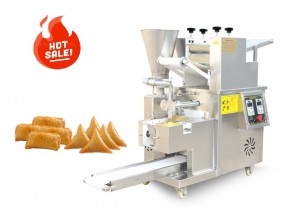 ※ Multi-purpose, you can produce foods of different shapes and specifications by changing the mold.
※ The size of the product is uniform,thickness of the dough,amount of filling, and the speed of making dumplings can be adjusted at will.
※ It can be operated freely in 5 minutes, one or two people with no experience can operate.
※ The body is lightweight, occupies less space,easy to move.
※ The main parts are made of high-quality stainless steel, beautiful in appearance, in line with food hygiene standards.
FOBQINGDAO price: USD2650-3300/Set
Pls contact us for accurate price.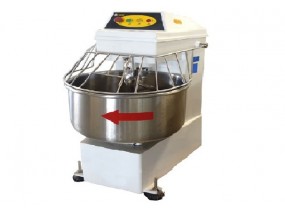 - With manual control panel/electronic button panel,operate easily, low maintenance.
- Electronic component are using Schneider, Fuji, Omron and other famous brand products.
- Using imported bearings and motors, to ensure that the process remains silent.
- Using MITSUBOSHI and GATES belts, to ensure long-term use without replacement.
- Mixing bowl, hook and rod made of heavy duty stainless steel.
FOBQINGDAO price: USD1160-USD5250/Set
Pls contact us for accurate price.
Displaying 1 to 7 ( of 7 products)
The dumpling machine produced by our company can make dumplings, triangle dumplings, spring rolls, samosa,wontons, empanada etc. by changing different molds.
It is suitable for making dumplings with meat filling, meat and vegetable filling, whole vegetable filling and other kinds of fillings.
Suitable for various working environments.