Dumpling Wrapper Machine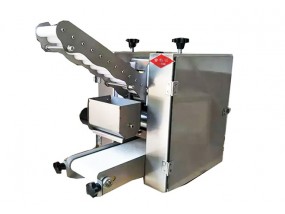 ※ Dumpling wrapper machine using the principle of pressing rollers to roll dough,without return dough andmarginal waste after one-time molding.
※ Dumpling skin is thick in the middle,thin on the edge, has the same texture and shapewith hand-rolled skin.
※ Size,appearance, taste and weight of thedumpling produced are uniform, thus completely changing the current phenomenon of low production efficiency, secondary pollution, and middle cracks.
※ Easy to operate,click switch and put dough into theinlet, thendumpling skin can be out.
※ Made of stainless steel material, reasonable structure, maintenance;easy to disassemble and clean.
※ Small in size, high efficiency, compact structure, novel shape, beautiful,bright and clean.
FOBQINGDAO: USD700-USD900/SET
Pls contact us for accurate price.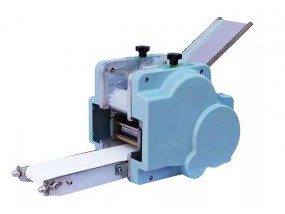 1. One-time molding, automatic skin feeding, automatic skin return,labor and time saving, faster production speed, simple operation.
2. The produced dumpling skin or steamed bun skin is thick in the middle, thin on both sides, suitable for various specifications of dumpling skin or steamed bun skin, thickness and size can be adjusted.
3. The principle of multi-roller one-time pressing is adopted. Size and thickness of dumpling skin is uniform, which guarantees the quality of finished dumplings.
4. In addition to making dumpling skin, this machine can also make wonton skin, steamed bun etc, has a wide range of application.
FOBQINGDAO: USD450-USD650/SET
Pls contact us for accurate price.
Displaying 1 to 2 ( of 2 products)
The imitation hand-made dumpling wrapper machine has firm structure, beautiful appearance, flexible adjustment, convenient operation, time and labor-saving. It is the best choice for restaurants, canteens, dumpling factories, and large-scale quick-frozen food factories.