Chocolate & Candy Making Machine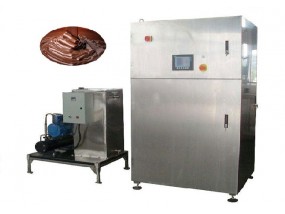 The machine is indispensable equipment in the chocolate production line. It can be automatically controlled and in strict line with the temperature required for each section in the tempering procedure so as to guarantee the quality of chocolate.
FOBQINGDAO price: USD3200-USD15000/set
Pls contact us for accurate price.
Displaying 1 to 1 ( of 1 products)
Chocolate Making Machine is the essential equipment to produce natural cocoa butter and cocoa butter equivalent (CBE) chocolate. We offer chocolate machine at the reasonable price to customers. The machine is essential in the production line of chocolate. This machine can be automatically prohibited and in strict the line with the temperature. Generally, the commercial chocolate tempering machine is one of the vital equipment to create the natural cocoa chocolate. It has the special tempering process to the form the chocolate crystals at various temperatures. It can mechanically organize the required chocolate temperature during each process of production. We provide reliable and cost-effective service to our valued customers. We ensure high-quality products to the customers.