Automatic Continuous Commercial Chocolate Tempering Machine
The machine is indispensable equipment in the chocolate production line. It can be automatically controlled and in strict line with the temperature required for each section in the tempering procedure so as to guarantee the quality of chocolate.
FOBQINGDAO price: USD3200-USD15000/set
Pls contact us for accurate price.

Product Details
Comme
rcial Chocolate Tempering Machine
The chocolate tempering machines are designed with a view to induce the right pressure to the liquid chocolates while making it smooth and crispy. The tempering machines work on the basis of CNC technology that are suitable for chocolate making for various industry types. Such type of machinery is used extensively in big and small industries.
Product Application
QT Automatic Commercial Chocolate Tempering Machine is the essential equipment to produce natural cocoa butter and cocoa butter equivalent (CBE) chocolate. This series set a special tempering procedure according to the forming rule of the chocolate pastes crystals at different temperatures so as to strictly and automatically control the required chocolate paste temperature at each production process.
Technical Parameters
SPECIFICATIONS FOR AUTOMATIC CONTINUOUS CHOCOLATE TEMPERING MACHINE

Model

QT250

QT500

QT1000

QT2000

Production Capacity(kg/h)

250

500

1000

2000

Whole Machine Power(kw)

8.3

10.57

15

18.5

Machine Weight(kg)

580

880

1200

1500

Outside Dimension(mm)

1100*800*1900

1200*1000*1900

1400*1200*1900

1700*1300*2500
SPECIFICATIONS FOR AUTOMATIC INTERMITTENT CHOCOLATE TEMPERING MACHINE

Model

QT10

QT50

QT100

Production Capacity(kg/h)

10

50

100

Whole Machine Power(kw)

2.1

3

4.5

Machine Weight(kg)

140

180

200

Outside Dimension(mm)

700*800*850

1200*950*1100

1400*1000*1200
Main Structure & Working Principle
Automatic Commercial Chocolate Tempering Machine is designed according to the characteristics of the natural cocoa butter and cocoa butter equivalent (CBE). It is in vertical structure, the chocolate mass is fed from the button by the chocolate pump, then passing through four temperature adjusting zone and one temperature holding zone, then output from the top of the machine. After this process, the chocolate product will be well crystallized with good taste, fine color and longer preserving time.
Chocolate Processing Flow Chart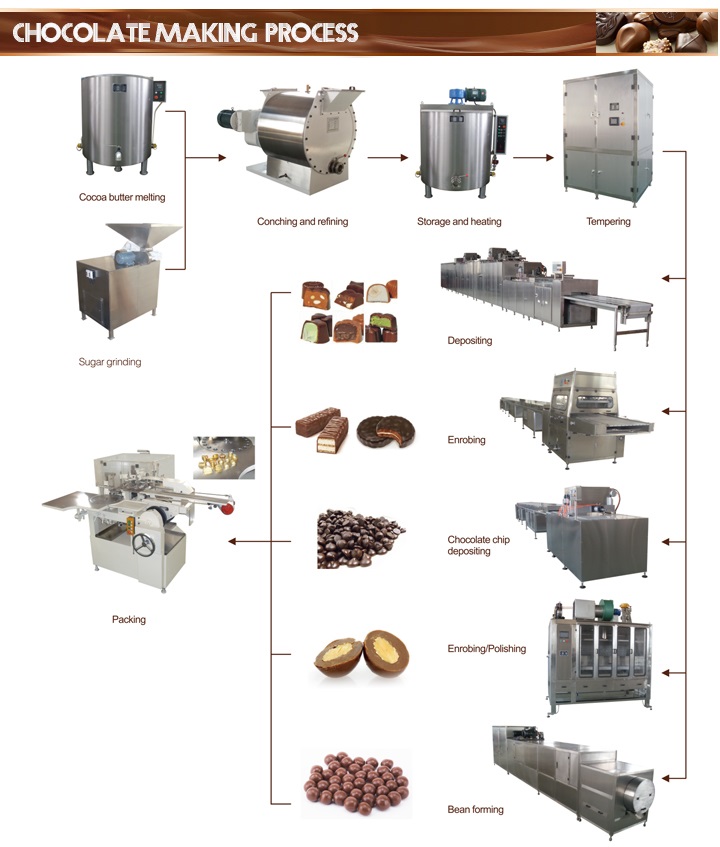 Detailed Images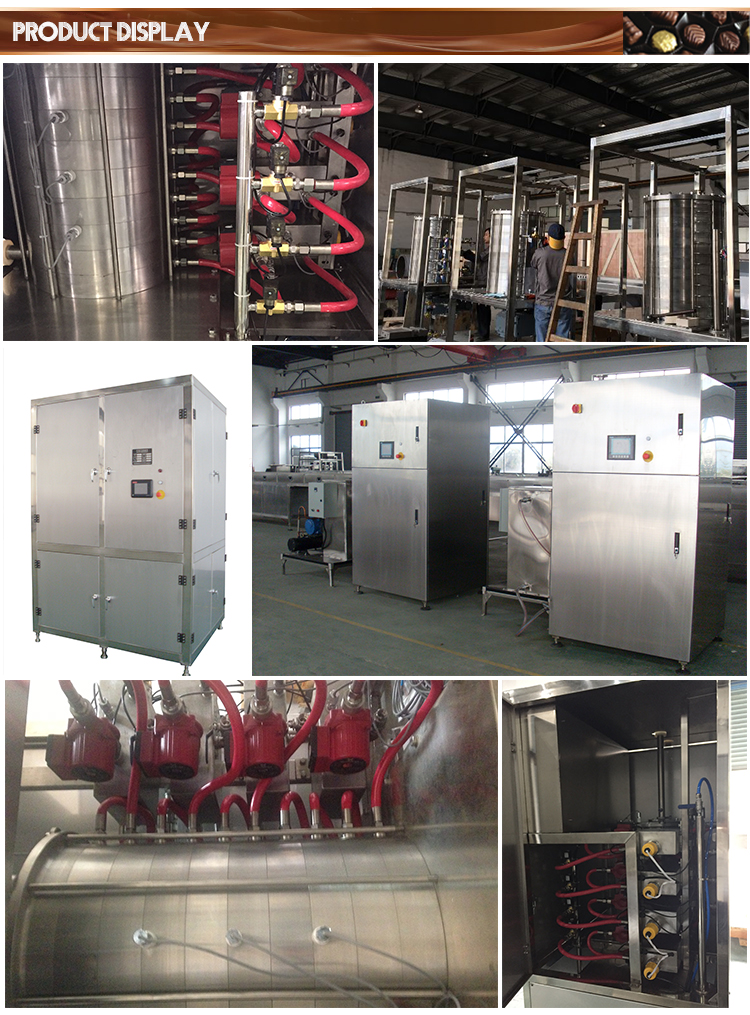 Packing & Delivery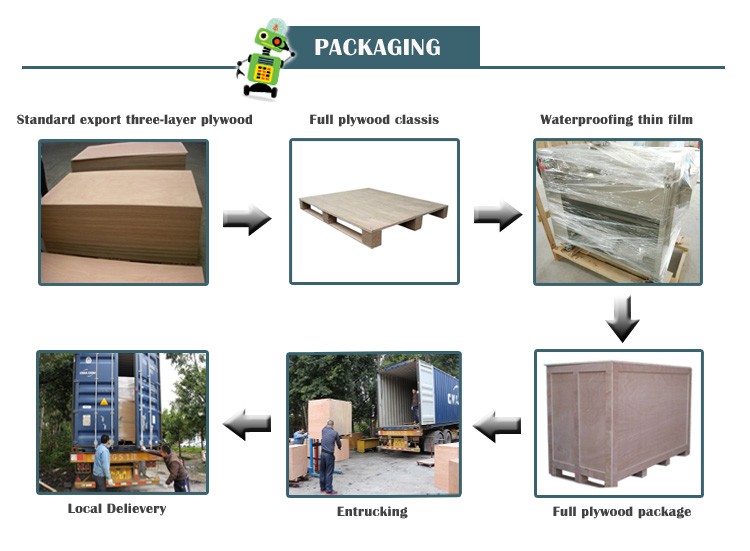 The tempering or tempering of chocolate is a process in which the chocolate melts and therefore the fat crystals of the chocolate, we cool it a little so that new networks of fat crystals begin to form and finally we heat again slightly the chocolate to melt the unstable crystals of the new networks and let it crystallize completely. This process gives us as a result a stable network of fat and therefore a crispy and shiny chocolate. To be able to properly temper chocolate at home we do not need many things and it is simpler than it seems although we have to follow very strict guidelines regarding temperature since a small error can give us a bad result. The only equipment that allows the homogenized and perfect tempering of the product, is commercial chocolate tempering machine.

Our commercial chocolate tempering machine is designed to perform 4 simultaneous functions:
1. Melt of Chocolate
2. Tempering
3. Dosage
4. Elimination of Bubbles, through the automatic vibrator
Final Product Quality
It allows the necessary control of melting and tempering temperatures by type of product, milk chocolate, bitter medium etc, guaranteeing perfect homogenization.
High production
Our chocolate tempering machine allow to do production of tempered chocolate up to 20kg
Easy Operation
Actual and programmed temperatures with independent indications, facilitating the control and operation of the tempered.
Vibrating Table
Have Vibrator for the dispersion of the air bubbles of the melds, even in the equipment.
Advantage of Our Commercial Chocolate Tempering Machine
Rapidity in production, continuous equipment that makes it possible to use chocolate directly in the tank, without the need for preheating
More efficiency, precision in the adjustment of the temperature to temper the chocolate
Eliminates the waste of excess chocolate in the dosage of the meld
Elaboration of a standardized product, without defects and with superior quality
No accumulation of chocolate on the sides of the mold during production, maintaining hygiene
Possibility of producing small and delicate formats, since the equipment does not allow the formation of air bubbles in chocolate
Possibility of equipment cleaning
Possibility of working with the different types of chocolate.
Inquiry Now
Can't find the specific information you're looking for? Have a question ? Contact Us