Company News
What is best machine to cut chicken?
Views: 256 Update date: Apr 29,2021
Hand cutting of chicken is the most traditional way of chicken processing, which consumes a lot of manpower. Due to the limitation of operator level, it cannot meet the requirements of commercial development with large output.
After that, the bone-sawing machine came into being, as an example of a semi-automated machine, it could handle ribs, chicken, beef, duck, etc, especially suitable for cutting all kinds of ribs, greatly save labor, improve work efficiency, suitable for use in small restaurants, dining halls, restaurants etc.However it with obvious defect, the loss rate of the bone-saw machine is high, according to reliable data, processing 100kg will produce 4-5kg of diced meat. It will cause losses to users.

Our automatic chicken cutting machine is the upgrading product of bone sawing machine, it can carry out fully automatic, continuous processing, could chop chicken, duck meat, small and medium animal bone, ribs, frozen meat, fresh meat, frozen chicken, chicken leg, etc., can be chopped lump, section, strip and others, shape/size could be adjusted according to need.

This machine saves money and labor, can work for many people. Widely used in large and small food processing plants, collective dining halls, slaughterhouses, meat processing, supermarkets, restaurants and other places.

We are source factory of poultry cutting machine,more than 6 years industrial experience,voltage,blade can be customzied,guanrantee machine for 12 months,provide wearing parts in whole using life.export wooden case packing,very popular in domestic and foreign market.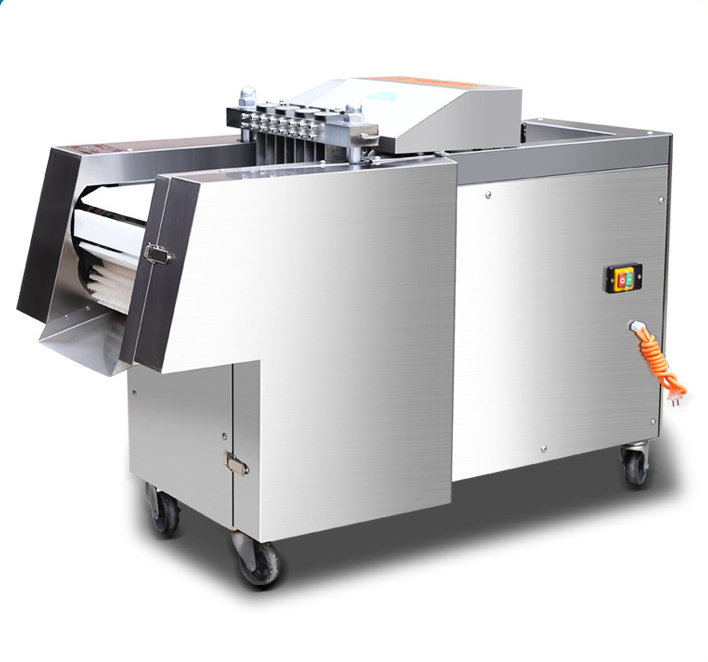 ---
Technical Parameters
Model

SKQ-300

Voltage

220V/50HZ

380V,50HZ

Power

2.2 KW

Processing Size

20-50mm adjustable

Capacity

400-800 kg/h

Machine Size

1500*650*800mm

Weight

250 KG
---
Main Features of Chicken/Frozen Meat Cutter
※Working speed is full automatic mode.up to 50-90 kg/10 minutes.
※It is designed with a plane body, and the whole stainless steel seal plate is in line with food hygiene and easy to clean.
※With stainless steel door, surface special treatment, easy to clean and maintain.
※Thickness adjustment platerib design, can adjust the processing thickness, will not shake when moving.
※With safety pressure bar design, it can improve work safety.
※The machine is waterproof, easy to clean, safe and hygienic.
※Compact structure, beautiful appearance, simple operation, high efficiency, low power consumption, easy cleaning, and good cutting effect.
---
Structure of Chicken/Frozen Meat Cutting Machine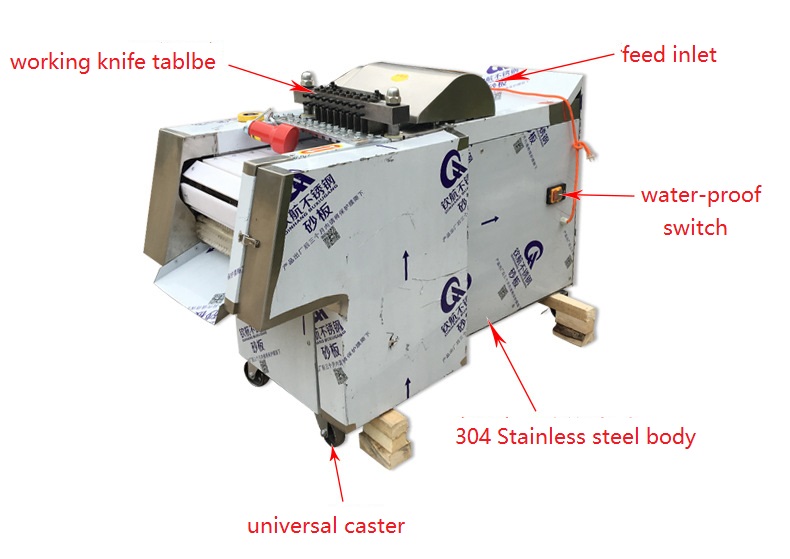 ---
Applied Range of Automatic Chicken/Frozen Meat Cutting Machine
The machine is cost-effective and labor-saving. One machine equal to many person's work. It can be chopped up to 500 kilograms per hour, which greatly improves the production efficiency.It is widely used in large and medium-sized food processing plants, collective canteens, slaughterhouses, meat joint processing plants, supermarkets, restaurants and so on.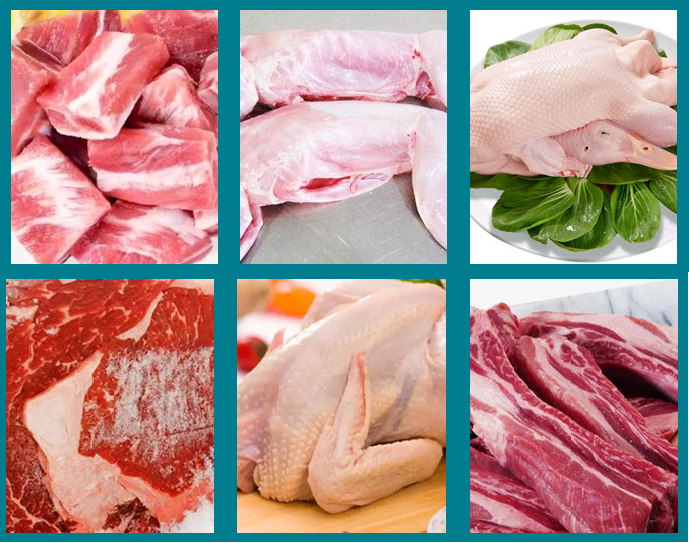 ---
Detailed Images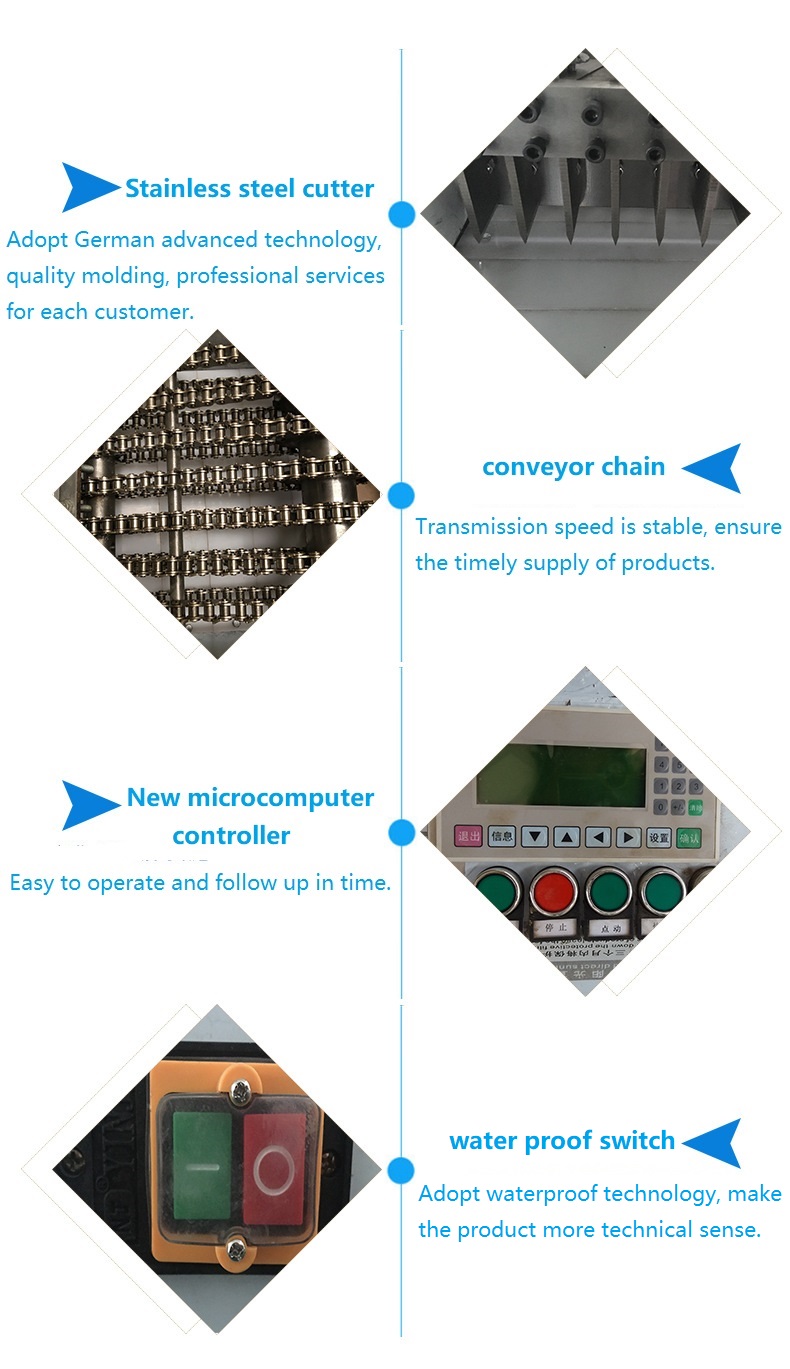 ---
Warehouse and Packing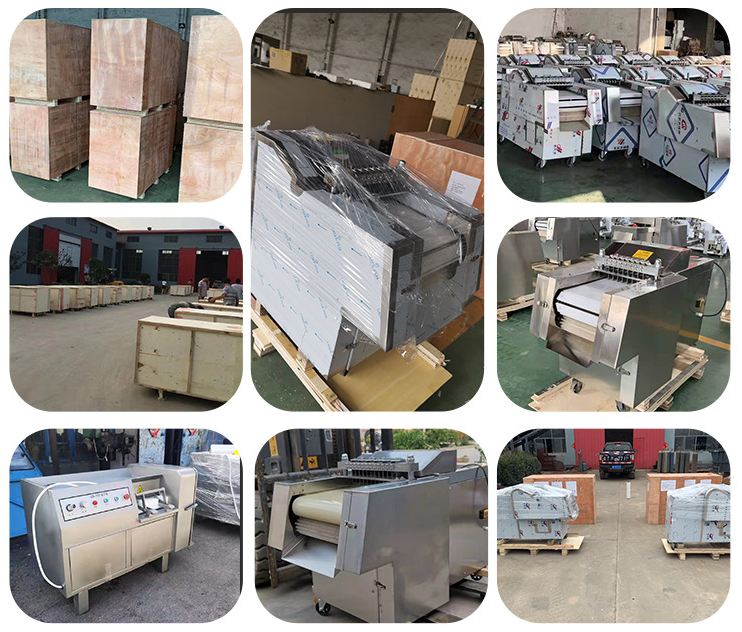 Welcome all agents, users contact us to inquiry, we will provide you with professional suggestion, customized services..excellent quality and cost-effective products.
---
Contact Info
HENAN LOFTY MACHINERY CO.,LTD
Email: [email protected]
Website: www.loftymachinery.com
Contact Person: Erie Li
Whatsapp/Mobile:+8613619848687
Previous: Two Sets Sweet Corn Sheller Export to USA
Next: Two Sets Sweet Corn Sheller Export to USA