Industry News
What is the best way to wash vegetables and fruits?
Views: 1157 Update date: Jan 04,2019
We live in a very diverse society in which food is concerned, while some abuse junk food others worry that each of the foods they consume are of high quality and nutritious value. What is the best way to wash vegetables and fruits? How to eliminate all contaminants from food within the food industry? What is the best method to eliminate contaminants from vegetables and fruits?
Within the food industry, high health standards are required, since the foods that are put on sale must be completely clean and free of contaminants. That is why when preparing vegetables, fruits or legumes and others, it is necessary to carry out an efficient washing process that does not imply more time to obtain better results.
One of the best methods to wash vegetables or fruits is to use a
commercial vegetable washing machine
with large capacity container where the items to be washed can be moved to wash and rinse them. With this form of washing, food can move to get rid of these factors such as soil, insects or other. The commercial vegetable washing machine is designed to wash and clean the fruit before processing. The fruit in the washing machine is washed with water and soft brushes that leave it intact.
Main features of

vegetable washer machine

:
* Completely made of stainless steel.
* Mounted on rotating wheels (pivoting).
* Brushes made of non-toxic material.
* Removable brushes for easy cleaning after use.
* The washing machine is easily cleaned after use.
* Operation in the central command box.
* The cover of the washing machine is foldable and therefore can be opened.
* Gradual water exchange during washing: fresh water flow in the fruit outlet, wastewater drain in the fruit inlet of the washing machine.
Commercial vegetable washing machine is designed for general washing of all kinds of foods such as vegetables and fruits, seafood, liver, meats, etc. Completely remove any impurities such as dirt, mud with enough precision, so that it can meet the requirements of the kitchen. User-friendly control panel indicates in advance to the operator when it will start a wash cycle. Adjustment of the washing cycle, washing time control. It contains a strainer system that removes water from food and then has a rollover system that allows the operator to remove washed foods without touching them.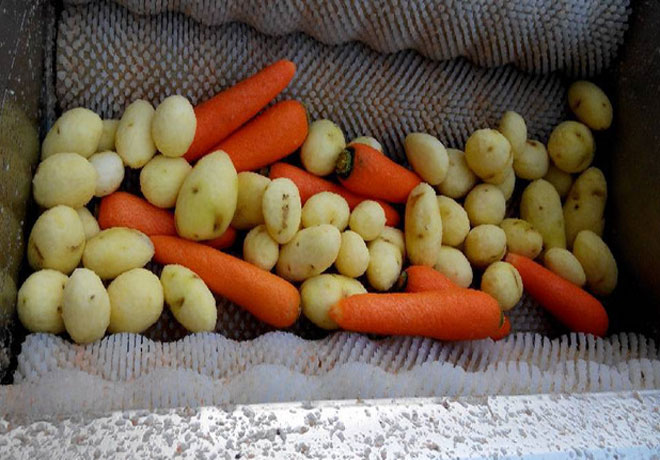 Previous: Uses of commercial vegetable washing machine
Next: Uses of commercial vegetable washing machine