Successful Case
Bubble Commercial Vegetable and Fruit Washing Machine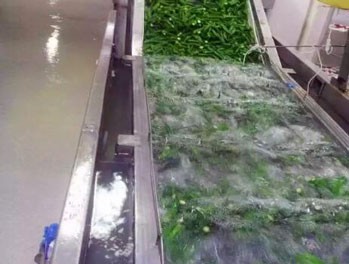 Description:
This machine produces water bubble by air blower to wash the fruits; the machine is composed of water cabinet, feeding device, fan etc.
Application: widely used to gently wash the fruits & vegetables
The lifter matched is made of SUS304 stainless steel or plastic material, extra water spraying device can be fixed on the machine.
Characteristics:
1. During the washing procedure, under the motivity of water current and bubble, the fruits or vegetables circumvolve without fixed direction be washed thoroughly, salts and pesticide that remain on will be removed at the same time;
2. Fruits & Vegetables are pushed to the steel roll elevator by spouted water under compressed air, then turn the next processing step;
3. The Used water can be recycled after filtration;
4. The capacity of this equipment is changeable as the motor of engine is equipped with step-less shift gears.
Introduction
The equipment is composed of SUS304 stainless steel tubes as bearing and with brush on the tubes to wash the fruits and vegetables. The stainless steel tubes make the brush circumvolve, the neighbor hood brushes make the fruits and vegetables circumvolve and to be washed, meanwhile the bad fruits and vegetables will be picked up manually.
Technical parameter(refer to the raw fruit processing capacity)
Model

Description

External dimension

(L×W×H)(mm)

Suggested capacity

Suggested power(kw)

capacity and power varies as to

different fruits

GMQXJ-2

The material used is sus304 stainless steel, speed is adjustable, with water spraying device

3000*1000*1850

≤2(T/H)

1.1

GMQXJ-5

3000*1250*1850

3~5(T/H)

1.5

GMQXJ-10

3800*1500*2000

6~10(T/H)

2.2

GMQXJ-15

4000*1650*2000

11~15(T/H)

3

GMQXJ-20

4000*1900*2000

16~20(T/H)

4

GMQXJ-40

4500*2200*2000

40(T/H)

5.5
Features:
1: European Style, ergonomic design, simple and elegant;
2: Intelligent control system ensure comfortable and safe operation and stable.
3: Brush pressure is adjustable to different floors.
4: Big capacity tank & wide brush width make cleaning more efficient.
5: Maintenance free battery can guarantee longer working life.
6: Imported vacuum motor ensures high dry performance.
7: Low-noise, can be used in hospitals and other quiet environments.
8: Several machine option can be chosen according to customer's requirement.
Special Bubble Vegetable Washing Machine,6 years professional produce experience, 1 year quality guarantee, provide spare parts in whole using life. Sells to South Africa.