Potato Peeling Machine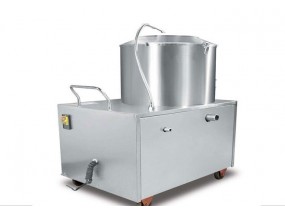 1) machine structure compact, easy to operate.
2) made of stainless steel, durable and hygienic.
3) higherthreshing rate, lower breakage, clean, health.
4) save time.& water. After cleaning and peeling, there will be no cracks and broken phenomenon.
5) the motor is inside, won't be damaged by water. Also the power switch is waterproof.
FOBQINGDAO price: USD750-USD890/Set
Pls contact us for accurate price.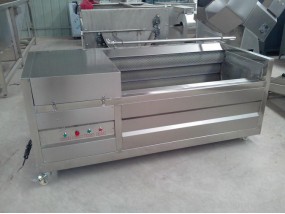 Machine high strength SUS304 stainless steel production blasting
With a clean visual splash guard means original, health and safety
Ladder chassis and suspension structure, high strength angle moving wheels, durable
Special nylon brush both peeled and polished, efficient and durable
Displaying 1 to 2 ( of 2 products)
The machine is indispensable equipment in the chocolate production line. It can be automatically controlled and in strict line with the temperature required for each section in the tempering procedure so as to guarantee the quality of chocolate.
Potato peeling machine – a great kitchen Appliance
The cooks have invented many tools to peel vegetables of all shapes and sizes imaginable, which are used to peel potatoes.
Potato peeler
Potato peelers are capable of peeling up to 30 kg of potatoes at a time; greatly facilitating tasks in the kitchen. They can be manufactured in stainless steel or aluminium. These machines act on the tubercle by erosion, that is, they have surfaces that rub against the potatoes until they are skinless. We provide best potato peeling machine at very reasonable rates for commercial as well for domestic use.
How our potato peeling machine is useful:
Automatic machines to clean and peel potatoes / carrots and potatoes with excellent results, significant labour savings and minimal waste production. Used for catering services, restaurants, canteens, communities, food laboratories, supermarkets, hypermarkets.
Features of Potato Peeling Machine:
Easy to use. Short work cycle.
Specially designed for the intended use.
Disc and side surface coated with abrasive material (potatoes / onions) or smooth surface (garlic), easily removable to facilitate cleaning.
Maximum hygiene according to the rules.
Characteristics of Our Potato Peeling Machine:
Excellent product - This kitchen utensil is used to create noodles or vegetable spirals. Suitable for potatoes (potatoes), cucumbers, zucchini, radishes, beets, cheeses, noodles and much more.
Small and perfect size - It is a compact and small slicer, a size suitable for most vegetables. The rest of the cutter is the top part of green.
Easy to use and wash - Keeps your hands safe as there is no possibility of coming into contact with the blades. Easily wash in the dishwasher. You can start making great dishes
Anti-slip grip - Features a non-slip grip for more comfortable slicing. It is cylindrical and made of silicone.
Save a lot of time - A higher efficiency that can.
Easy to use- This product is easy to us and need not any kind of special training for the usages.
Very reasonable in rates- This product is very reasonable in rates and can be easily affordable.