Vegetable & Fruit Processing Machine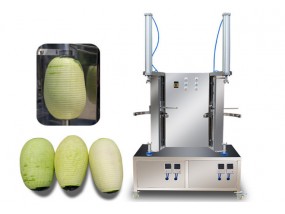 ※ Simple operation and convenient cleaning.
※Good peeling effect, peeling surface is smooth, peeling rate > 95%, peeling thickness is uniform and adjustable.
※Up and down cycle work, save time and labor, improve working efficiency and product quality.
※ Low mechanical efficiency, electricity and energy saving.
※Simple operation, convenient cleaning, safety andhygienic.
FOBQINGDAO price:USD3000-4000/Set
Pls contact us for accurate price.
As the main part of the fruit production line, fruit and vegetable washing machine is widely used in all kinds of fruit cleaning.

The fruit and vegetable pesticide residues can be eliminated by the fruit cleaning machine. The washing ingredients in the machine can effectively rinse the raw materials.
Fruit cleaning machines can be used to disinfect fruits and vegetables. Some fruit cleaners are equipped with a UV bactericidal system that can kill most common bacteria and prevent them from causing stomach trouble.The fruit washing machine can remove the impurities on the fruit. Every fruit product is contaminated by impurities such as dust and dirt when picked. Water spray and brushes can effectively eliminate impurities.
With the improvement of people's living standard, we pay more attention to health and hygiene. Fruit washing machines play an important role in industrial production, ensuring that fruits and vegetables are not contaminated. Therefore, it is important to choose fruit cleaning machine with good performance and durability.