Industry News
How industrial chocolate tempering machine works?
Views: 1682 Update date: Jan 04,2019
Industrial chocolate tempering machine was automatically continuous operation of controlling temperature. A refrigerant was compressor for cooling to permit for a correct tempering of different types of chocolates. The machine also has fitted inside jacketed bowl in order to maintain the chocolate homogeneous and fluid. The machine is essential for controlling the temperature in the production line of chocolate and it is automatically prohibited. The chocolate tempering machine maintaining the chocolate's temperature exceed 92 degree F and for the dark chocolates as 88 degree F.
The mechanism of using this machine is a heat treatment technique for metals and alloys. It produces the process of tempered glass. In this machine was using a method of increasing the shine and stability of chocolate overtures.
Chocolate Tempering Machine
:
The chocolate tempering machine is essentially used prepare natural cocoa butter and cocoa butter equivalent chocolate. This machine will automatically control the temperature for every type of chocolates. The chocolate tempering machine is designed according to some characteristics like vertical structure the chocolate mass is feeding from the button by chocolate pump. Temperature adjusting zone processed as one temperature holding zone and then output from the top of the machine. In this process, the product of the chocolate will changed into well crystal form with good taste, fine coloring and gives more preserving time.
The
industrial chocolate tempering machine
will designed to perform such functions like:
· Melting the chocolate.
· Maintaining the temperature.
· Dosage based on the climate.
· To eliminating the bubbles during the automatic vibrator.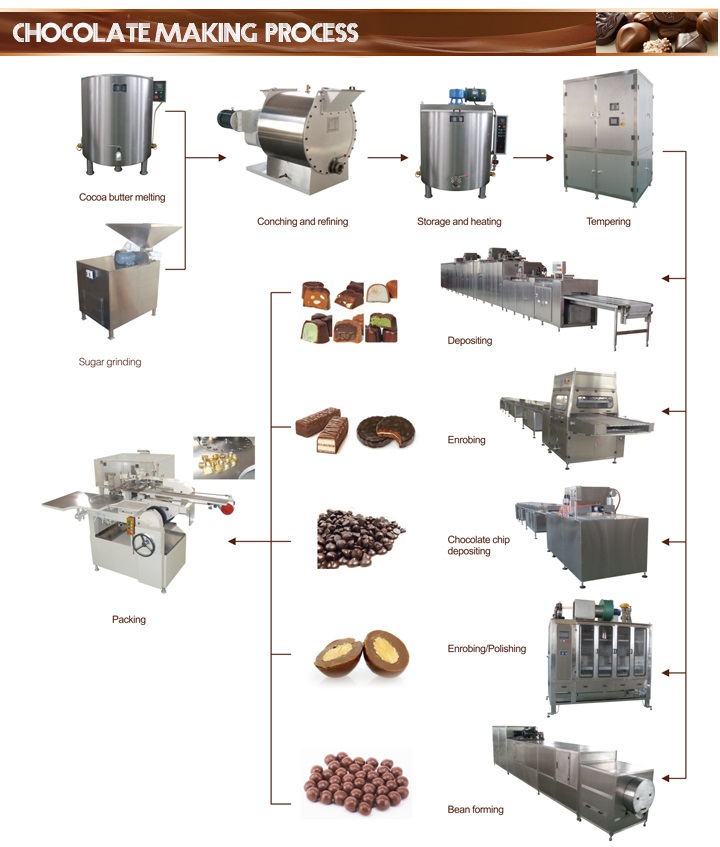 Previous: Working Principle of Commercial Vegetable Washing Machine
Next: Working Principle of Commercial Vegetable Washing Machine