Company News
Inquiry about Automatic Samosa Dumpling Making Machine
Views: 1101 Update date: Mar 04,2022
2022-02-03,China is in Spring Festival Holiday.We get inquiry about Automatic Samosa Making Machine from Australia.Beow is the info:
Client:
Hi! Erie! Please contact me , regarding purchase and information of Samosa Machine Automatic.
Regards .
Mr A.Prakash
Sydney Austraila
We:
Dear Prakash, thank you for message, Erie here. Sorry for late reply, China is in Spring Festival Holiday. Pls let me know more requirement about dumpling machine, such as: capacity per hour, dumpling size and shape?
Client:
I want model: LF-180 Samosa Folding Machine, 240v, that can produce around 1000 plus pieces per hour etc.180gm 15cm or 10cm 100gm.
We:
pls provide dumpling or samosa photo.
Client:
Okay.Can you please send me model type to fit my business requirements specifically to make different size of mould production?Can you please send me total cost to purchase price and get delivered to my Australian address?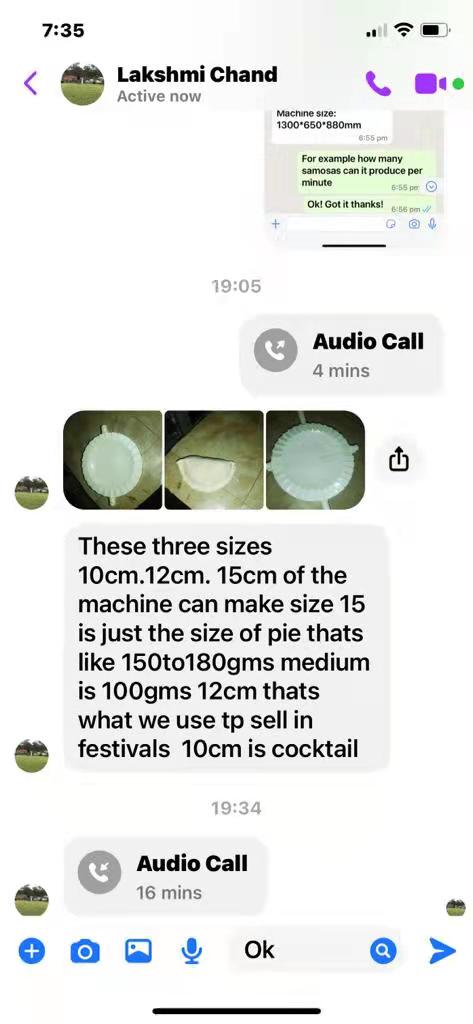 We:
Get it. Leave me your email to accept offer pls
Client:
prakas .I'll wait for you to come with the price.
We make offical offer to meet client's requirement. After a pleasant discussion, we have confirmed the preliminary order plan.
Thanks for your attention to our company and products. Integrity, efficiency, excellent quality is our constant pursuit and direction. Looking forward to the inquiry from each customer, hope toestablish long-term business cooperation with you !
---
Contact Info
HENAN LOFTY MACHINERY CO.,LTD
Email: info@loftymachinery.com
Website: www.loftymachinery.com
Contact: Erie Li
Whatsapp/Mobile:+8613619848687
Previous: SKQ300 chicken cutter machine export to Spain
Next: SKQ300 chicken cutter machine export to Spain