Industry News
What is Meat Dicing Machine?
Views: 569 Update date: Sep 21,2022
Meat dicing machine can cut cold, fresh meat and semi-thawed meat into cubes of different sizes and shapes according to customer needs. This dicing machine can also process various shapes, such asstrip, slice andfilament, cutting sizeis adjustable.Sliced meat, shredded meat, diced meat areuniform in size.Minimum size of diced meat is 3mm,maximum size is 80mm. It is the first choice for food processing and cutting.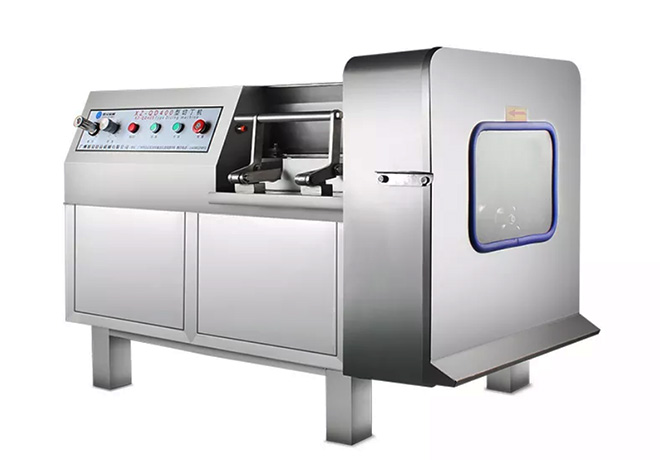 Meat dicing machine also named chicken dicer machine, it is made of high quality stainless steel and whole sandblasting treatment, reasonable structure, safe use, beautiful appearance, easy to clean. This machine can cut frozen meat, fresh meat, cooked meat, some fruits, vegetables, seafood etc products.
Feature of cube cutter machine
※ Stainless steel body, special surface treatment, easy to clean and maintain.
※ The thickness adjustment plate is reinforced, which is easy to adjust the processing thickness,does not shake when moving.
※ Meat dicers is equipped with a safety pressure rod design, makes the operation more reliable.
※ Straight-cut cutting reduces debris and loss during processing.
※ One side of the cutting groove adopts an active side pressure mechanism to facilitate feeding and improve work efficiency.

Cube cutting machinecasing and cutting knife grid are made of stainless steel.Cutting knife adopts double-edged cutting, which has high work efficiency.Size of the meatdiceis 3-30mm.Adjusting thickness cutting knob, the push rod can be steplessly adjusted to meet requirements of different cutting thicknesses. This machinesuitable for normal cutting of meathigher than -8℃.
---
Contact Info
HENAN LOFTY MACHINERY CO.,LTD
Email: info@loftymachinery.com
Website: www.loftymachinery.com
Contact Person: Erie Li
Whatsapp/Mobile:+8613619848687
Next: Is There a Machine that Makes Chapati?