Meat & Bone Processing Machinery
Semi-Automatic Electric Frozen Meat Slicer Machine
-Full polish and anodized aluminum-magnesium alloy body, resistant to rust
-High pricision slicing control thickness
-Powerful motor, low noise, energy-efficient
-Anti-slip feet, stable and safe to use
-With safety automatic knife grinding device above the meat slicer blade
-Hygienic, no harm for health
-Blade of hardened and chromium-plated steel
EXW price: USD550-USD1500/set
Pls contact us for accurate price.Suggest to shipped by air or DHL,TNT etc post.

Product Details
Product Application

Semi-automatic Electric Frozen Meat Slicer Machine is essential to commercial kitchens like restaurants, butcher shops, delis, farmers, hunters, fast food outlets or even the home cook that just wants the best!
Our meat slicer can be used to slice variety of foods, for instance, frozen meat, fish, mutton, vegetable, fruit cheese, sausage and other food. It is widely used all over the world.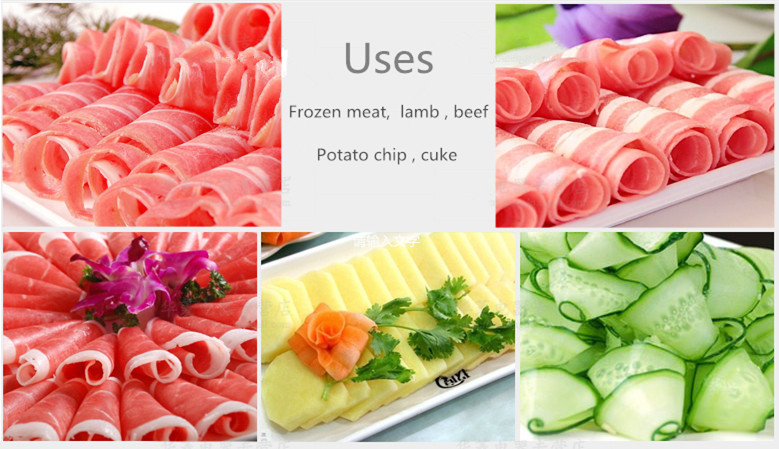 Technical Parameters
SPECIFICATIONS FOR SEMI-AUTOMATIC ELECTRIC FROZEN MEAT SLICER MACHINE

Model

LFS-350

LFS-300

LFS-250

LFS-220

Voltage

220V/ 50HZ-110V/60HZ

220V/ 50HZ-110V/60HZ

220V/50HZ-110V/60HZ

220V/50HZ-110V/60HZ

Power

400W

250W

150W

120W

Slicing thickness

0.2~30MM

0.2~15MM

0.2~12MM

0.2~12MM

Blade diameter

350MM

300MM

250MM

220MM

Max slicing width

320MM

200MM

180MM

160MM

Net Weight

49.42KGS

24.10KGS

16.70KGS

14.40KGS

Packing size

864x728x703MM

615x525x500MM

575x465x415MM

575x465x415MM
Main Features of Semi-Automatic Electric Frozen Meat Slicer Machine
-Full polish and anodized aluminum-magnesium alloy body meat slicer machine, resistant to rust
-High pricision slicing control thickness
-Good processing surface,no sharp coner,easy to clean
-Powerful motor,low noise, energy-efficient
-Anti-slip feet,stable and safe to use
-With safety automatic knife grinding device above the meat slicer blade
-Hygienic,no harm for health
-Simple control button,easy to use
-Blade of hardened and chromium-plated steel
Structure of Semi-Automatic Electric Frozen Meat Slicer Machine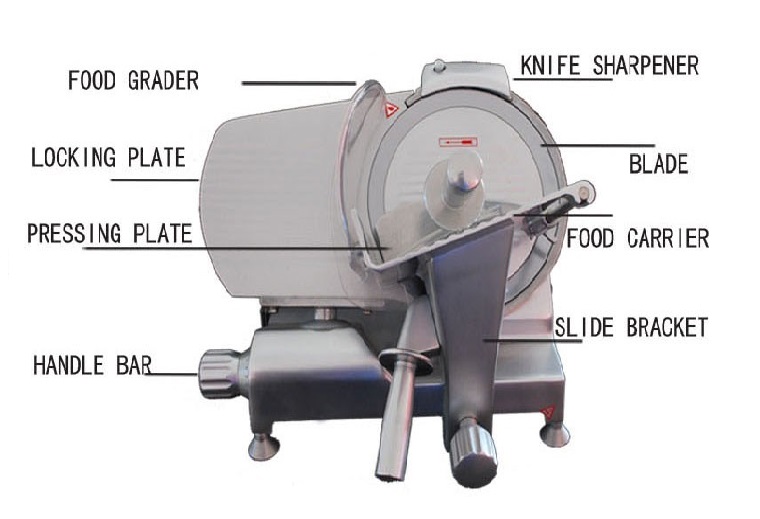 Detailed Images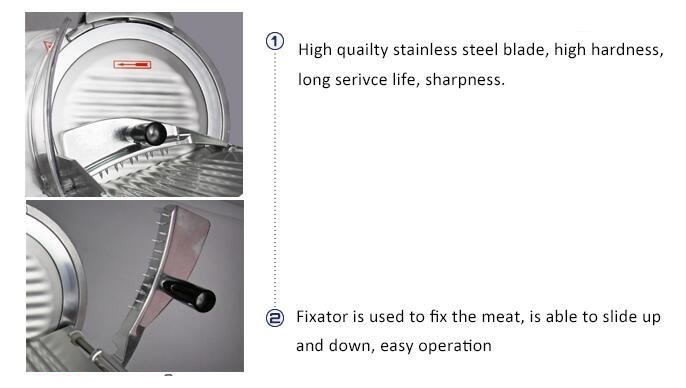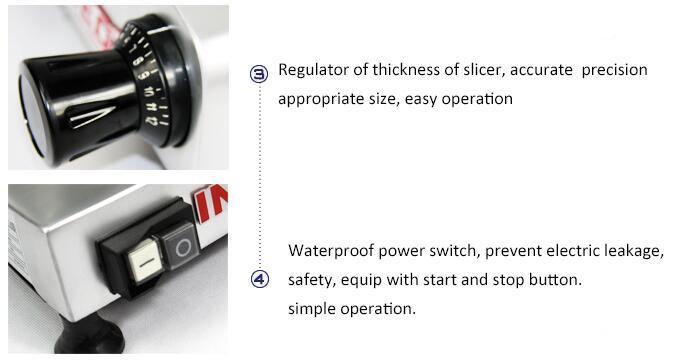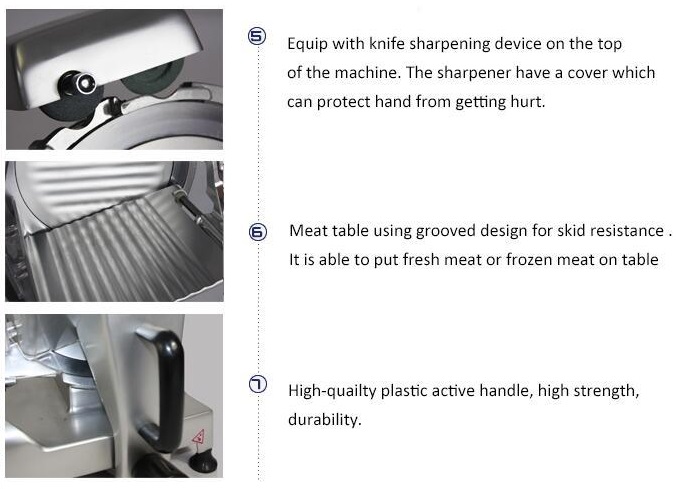 Inquiry Now
Can't find the specific information you're looking for? Have a question ? Contact Us